T. A. Hay, Untitled (Dog), 1982, shoe polish, marker, masking tape, and yarn on paper, 6.25 x 9 inches
T. A. Hay
Farm Works
February 12 - March 21, 2015
Institute 193, Lexington
Institute 193 is pleased to present "Farm Works," an exhibition of drawings and paintings by the late T. A. Hay, organized in collaboration with the Tanner Hill Gallery in Chattanooga, TN. A self-taught artist who lived and worked in rural Kentucky, T. A. Hay abstracted images repeatedly seen in his everyday life in order to satisfy a horror vacui compulsion to clutter the walls of his seven-room farmhouse. Aside from their raw aesthetic value, his works serve as a memoir of late twentieth century Kentucky farm life and of one man's endeavor to recover his past.
Thomas Andrew Hay was born in Clinton County, Kentucky, where he grew up on his family farm before leaving home at age fifteen. After several years spent "hobo-ing" throughout the United States and working as a map sketcher for the British military in World War I, he returned to Kentucky, where he would spend the rest of his life. It was not until Hay was in his late seventies, unable to keep up with farm work, that a woodworking hobby gave way to greater creative expression. He began creating simple, yet refined, images using accessible materials. With shoe polish for paint and his finger as a brush, he decorated gourds, wood blocks, paper plates, found styrofoam, and his own hand-carved sculptures.
Though his work may at first appear as conceptually simple as he has presented it visually, T. A. Hay's work is imbued with meaning. He displays an innate ability to distill forms into fundamental, yet recognizable, geometries, bringing to mind Alabama artist Bill Traylor. The two-dimensional pieces exhibited in "Farm Works" depict such subjects as horses, ox shoes, and spinning wheels, his ardent repetition of which mirrors the meditative routine of farm labor. During his life, he occasionally received local press and visits to his home to view his art, but Hay's work has not been widely shown.
T. A. Hay, Untitled (Horse), 1982, shoe polish, marker, and masking tape on paper, 6 x 9 inches
T. A. Hay, Spider Web, 1982, shoe polish, marker, and pen on paper, 9.5 x 6 inches
T. A. Hay, Untitled (Bird), 1982, shoe polish, marker, pen, masking tape, and yarn on paper, 6 x 9 inches
T. A. Hay, Untitled (Rooster), 1982, shoe polish, marker, masking tape, and yarn on paper, 6.5 x 9 inches
T. A. Hay, Untitled (Horse), 1979, Shoe polish, marker, and paper on board, 5 x 6 inches
T. A. Hay, Untitled (Owl), 1980, shoe polish, marker, pencil, and yarn on paper, 6 x 4.5 inches
T. A. Hay, Untitled (Bird), 1979, shoe polish and marker on paper, 3.75 x 6 inches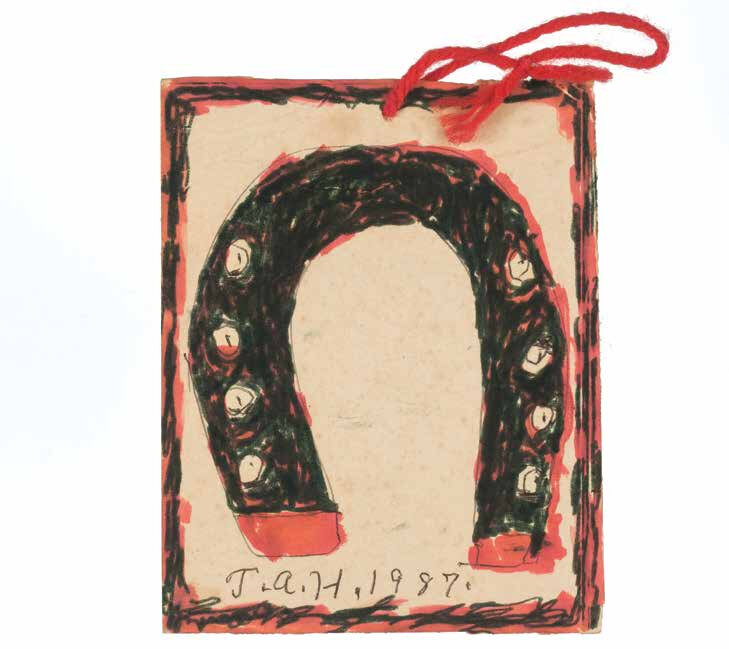 T. A. Hay, Untitled (Horseshoe), 1987, marker and yarn on paper on board, 5.25 x 4.25 inches