Erin Eldred, Cone Weaving, 2014, Yarn, cloth covered wire, plaster, acrylic, 6 x 2.5 x 2.5 inches
Erin Eldred
Fabricate
September 30 – November 7, 2015
Institute 193, Lexington
Erin Eldred talks to fibers, and they talk back -so to speak. She describes her process as an immediate dialogue between herself and her materials. Lately, Eldred says she works mostly on frame looms (which she builds herself), stating that that the very nature of weaving lends itself to making intuitive decisions. Fibers build on top of one another, and she continually adjusts to their evolving configurations.
Eldred grew up in a creative environment. She learned to sew by observation, spending hours looking across the kitchen table at her mother, who was always creating and making crafts with her children. Another influential woman in Eldred's life, a family friend, taught her to crochet when she was in the third grade. She never used patterns but instead took to making peculiar three-dimensional crocheted sculptures. To this day, she continues to elevate such traditional craft techniques, which have a rich history in the South, by challenging the physical limits of fiber performance.
The works in "Fabricate" vary drastically in scale; the weavings alone ranging from a mere two inches to an ample three feet. Other materials, such as dyed wool and cloth strips, form the basis for three-dimensional sculptures. Eldred even incorporates "foreign" materials such as plaster, pins, dowels, and wire in order to facilitate inventive structures and effects.
Besides her obvious technical prowess and facile grasp of a wide variety of techniques, each piece flaunts a sophisticated eye for color, most specifically an impressive ability to give visual prominence to very understated tones. Erin eschews superimposition of conceptual veneers, preferring to focus attention on the immediacy of materials and the intuitive processes by which they can be transformed.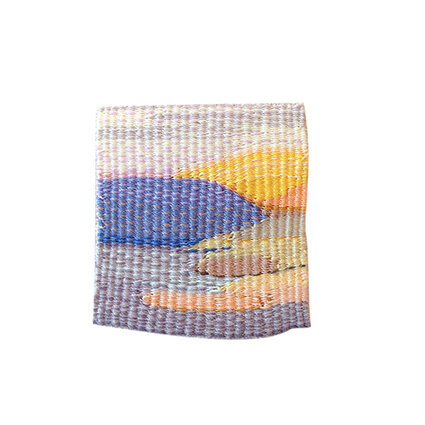 Erin Eldred, Untitled (Tiny Weaving 1), 2015, Woven polyester sewing thread, 1.5 x 1.375 inches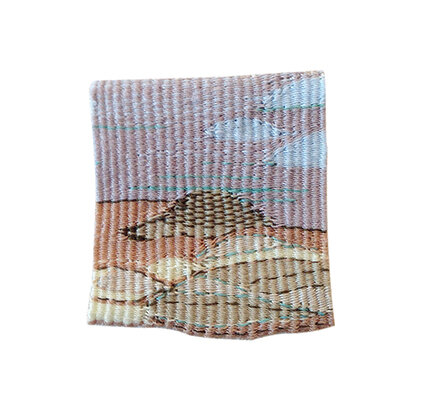 Erin Eldred, Untitled (Tiny Weaving 2), 2015, Woven polyester sewing thread, 1.5 x 1.375 inches
Erin Eldred, Day, Woven cotton cord and thread, copper wire, dowel, 23 x 13 inches (left), Erin Eldred, Night, Woven cotton cord, thread and yarn, suede, wire, painted dowel, 33.5 x 14 inches (right)
Erin Eldred, Passing Storm, 2015, Woven cotton and wool yarn, 8.5 x 6 inches
Erin Eldred, Cone Weaving, 2014, Yarn, cloth covered wire, plaster, acrylic, 12 x 4 x 4 inches