Eric Oglander, Four honeysuckle spoons, 2017, wood, various sizes
Eric Oglander
Making Tools
March 31 - April 29, 2017
Institute 193, Lexington
Eric Oglander grew up in rural Tennessee, passing his idle hours fishing, adventuring, and reveling in the forest's unknown depths. Nature served as his earliest inspiration and drove him to pursue art. Eventually, he left the woods behind to pursue a career in New York City, but the separation from the place that had so wholly informed his artistic process proved trying. In an effort to adapt to this new and decidedly urban environment, he began to learn, often via YouTube tutorials, traditional crafting methods, working with his hands to create tools and objects out of found organic materials. The resulting sculptures are personal and tactile—uniting his predilection and concern for permaculture, bushcraft and more traditional skill sets. These elegant, precious, and seemingly fragile tools prove a startling contrast to their supposedly utilitarian nature.
Beginning March 31, Eric Oglander will spend two weeks in residency at Institute 193, utilizing traditional methods to make unconventional tools from found materials. The resulting objects will be on display for the duration of the exhibition. Additionally, Oglander will produce a series of YouTube videos documenting his process.
Oglander's interest in popular digital platforms extends beyond this practice. His project Craigslist Mirrors, and its accompanying book consists of a collection of found images of mirrors for sale appropriated from Craigslist. Again, he uses YouTube as a contemporary method of distributing, collecting, and consuming knowledge, especially skills that would have, in other times or cultural settings, been passed down from person to person. According to the artist, "the confluence of one of the more influential websites of our time and many of the oldest skills known is a compelling union. YouTube has become our generation's hand axe, our wheel. It's a universal tool." The theme of the free-spread, democratic sharing of this kind of knowledge is inherent in much of his work.
A series of tensions play out in Oglander's objects and practice: city versus country; digital versus manual technologies; usefulness versus obsolescence, art versus craft. He is able to exist comfortably in the liminal space between this multitude of polls, raising questions without answering them.
Eric Oglander, Mallet, 2017, Wood, 16 x 5 inches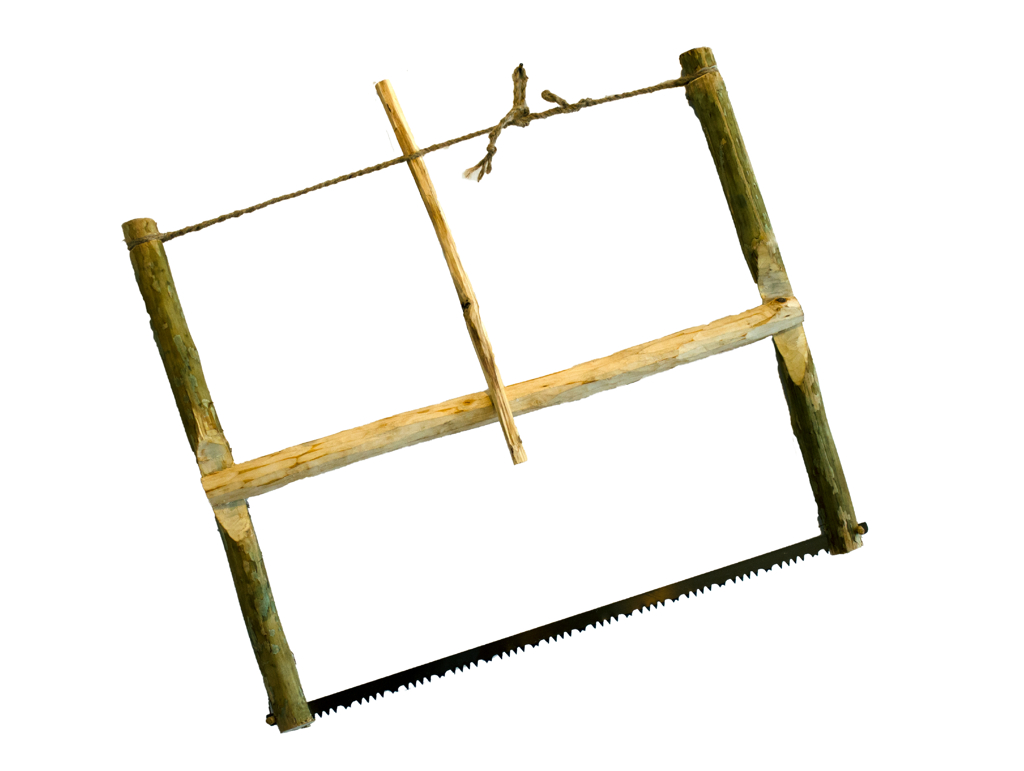 Eric Oglander, Buck Saw, 2017, Wood and saw blade, 20 x 23 inches
Eric Oglander, Basket, 2017, Grape Vines, 10 x 10 inches
Eric Oglander, Ladle, 2017, Wood, 17 x 2 inches
Eric Oglander, Fish Spear, 2017, Wood, 24 x 2.5 inches
Installation View, In Progress