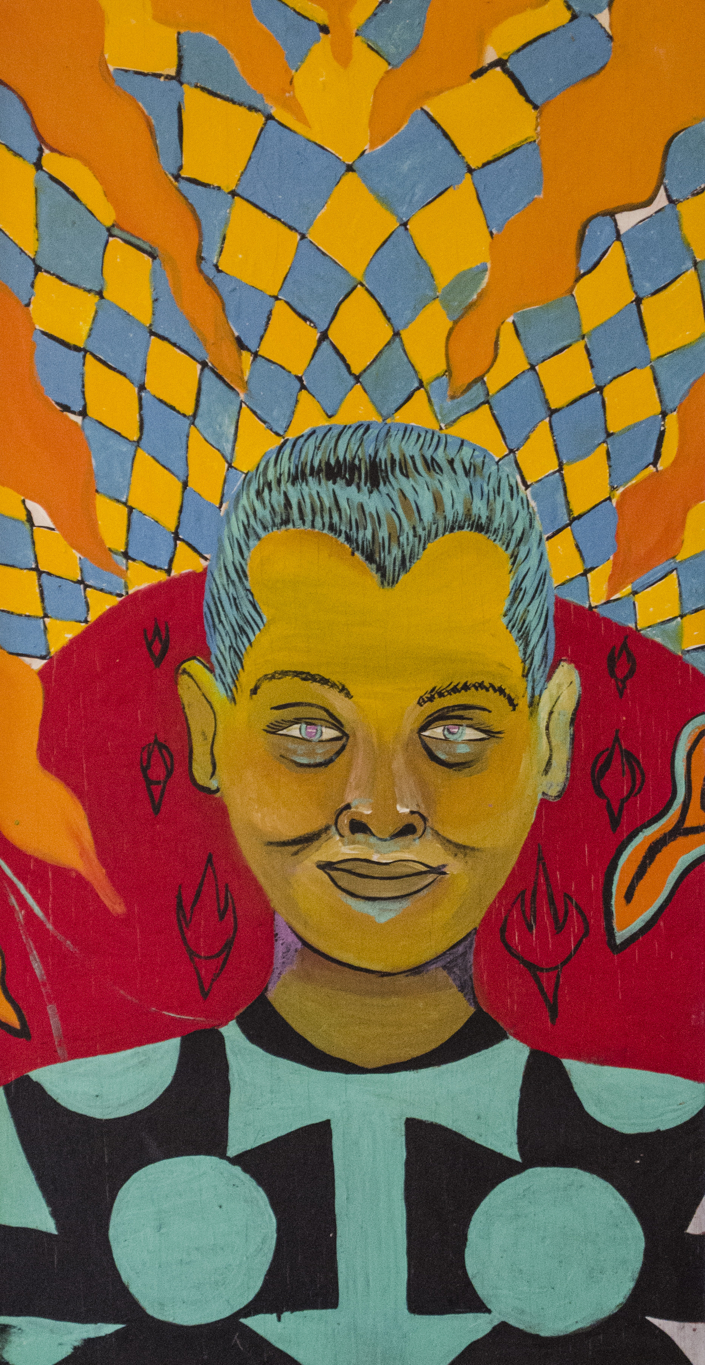 Eddie Owens Martin, Untitled, Oil on plywood, 33 x 25 inches
Eddie Owens Martin
St. EOM: Pasaquoyanism
May 4 - June 22, 2018
Institute 193, Lexington
"PASAQUOYANISM IS THE NEXT THING, MAN, IT IS DEFINITELY WAITING IN THE WINGS!!! It means the end of all these Buddhists and Muslims and Christians and all this other shit, man. I just hope I live long enough to establish it."
Eddie Owens Martin (1908 - 1986), better known as St. EOM, founded his own religion, Pasaquoyanism, in response to visions he had that started in his early twenties. In them, he was visited by giant men with long beards parted down the middle and hair that stood straight up from their heads. They instructed him to build Pasaquan, an expansive compound in his hometown of Buena Vista, Georgia, on which he built pagodas, temples, shrines, and dance floors made of cement and sand lavishly decorated with bright patterns and bas-relief, vividly painted representations of the beings that would continue to visit him over the course of his life.
Martin left Georgia at the age of 14, hitching his way North to New York City. He spent the next three decades there, working as a hustler and tea room clairvoyant. For several years, he ran a gambling den and sold Georgia-style fried chicken and hand-rolled marijuana cigarettes out of his apartment in Harlem. In 1942, the operation was busted, and he was sent to the Federal Narcotics Prison Hospital (known colloquially as the Narco Farm) in Lexington, Kentucky, where he and most of the inmates, by most accounts, enjoyed themselves thoroughly. The friendships made while he was in the area would later lead a number of Lexingtonians, among them Robert Morgan and Guy Mendes, to make pilgrimages to Pasaquan in the 70s and 80s.
Martin returned to New York in 1943, and, when not reading tea leaves or waiting tables at the Howdy Club, a popular gay nightlife spot at the time, painted constantly. Frequently too poor to afford paper or canvas, Martin often made use of scrap wood and metal as a painting surface. The work from this period mirrors the style and subject that would later come to define the murals and totems of Pasaquan. From an interview with Tom Patterson from 1983:
"I was paintin' like mad in those days," he recalled. "I'd go to work in the tea room from 3:00 to 10:00, then I'd get back home and light up a joint or two and go to work on the paintin' I had on the wall. I was paintin' scenes of ancient Mayan temples and some of the other ancient civilizations, and some pictures of the heads with the upswept hair. All kinda things—beautiful paintin's. I tried to get some of my art in the galleries in New York, but I just couldn't ever get through. It was just … Well, it just wasn't like the average art. It was too bizarre for 'em."
In the mid-1950's, another vision instructed Martin to go home to rural Georgia and begin work on Pasaquan, which he would build and maintain throughout the rest of his life. St. EOM pulled from myriad sources that span time, geography, and culture to build the system of beliefs on which his art and life's work was founded. Pasaquoyanism, although it is a cult of one, continues to draw interest by examining thoroughly the roots and intricacies of so many systems of situating oneself within the spiritual world, and in that pursuit finds elements that are genuine and common to all of them.
This collection is made available by the courtesy of Columbus State University, Columbus State University Foundation, Inc., Pasaquan in Buena Vista, Georgia, and through a gift by the Kohler Foundation, Inc. Special thanks to the Atlanta Contemporary, Daniel Fuller, Guy Mendes, and The Faulkner Morgan Archive.
Eddie Owens Martin, Untitled, Oil on canvas, 20 x 23 inches
Eddie Owens Martin, Untitled, Watercolor and ink on paper, 19 x 16 inches
Eddie Owens Martin, Untitled, Ink on paper, 39 x 22 inches