Adam O'Neal, VOL. 130, NO. 5 - VOL. 150, NO. 2, 2015, collaged paper, 19 x 14.5 inches
Adam O'Neal
Hard Work
June 27 – August 1, 2015
Institute 193, Lexington
When he was very young, Adam O'Neal began collaging with his mother. Together, they cut items from catalogs to create images of their own "dream homes." Adam, the second of eight children, grew up in Loxahatchee, Florida, working for tree farms and plant nurseries and remodeling homes with local contractors. Upon graduation, he moved to Daytona Beach to work for a local Marina. He biked to work every morning along the waterfront and spent the workday driving a forklift, moving boats, and pumping gas. In 2008 he moved to Brooklyn, New York, to work as an art handler for galleries and museums, a niche job description he filled as an artist from a family full of construction workers.
Both Adam's life and his art have been heavily influenced by his family life and occupational history. Ever resourceful, he borrows patterns, materials, and processes from his industry. He recontextualizes blueprints, shipping crates, packing tape, and cardboard to create minimal, geometric compositions on canvas. His MudMaster series, named after his father's own drywall company, abstracts house paint, drywall, and polyurethane through endless scoring.
O'Neal also continues the collage practice of his youth, cutting images from old National Geographic Magazines. He layers cars and trucks cut from full-page advertisements onto backgrounds of open water, resulting in new and disorienting landscapes.
"Hard Work" is a rumination on work and family. For Adam O'Neal, the two have always been intertwined. His artwork is a visual autobiography, an homage to the materials, the people, and the dreams that sustained his family and shaped his life. Direct, intentional, and celebrating so-called "mistakes," these pieces are proof that HARD WORK, indeed, can yield something valuable and meaningful.
Adam O'Neal, VOL. 128, NO. 4 - VOL. 154, NO. 4, 2015, collaged paper, 9 x 9.5 inches
Adam O'Neal, VOL. 124, NO.1 - VOL.155, NO. 3, 2015, collaged paper, 7.5 x 4 inches
Adam O'Neal, Untitled, 2015, collaged paper, 6.25 x 6.25 inches
Adam O'Neal, Four Stacked with Blue Print and Lost Pink X, 2015, oil and house paint on canvas, 34 x 38 inches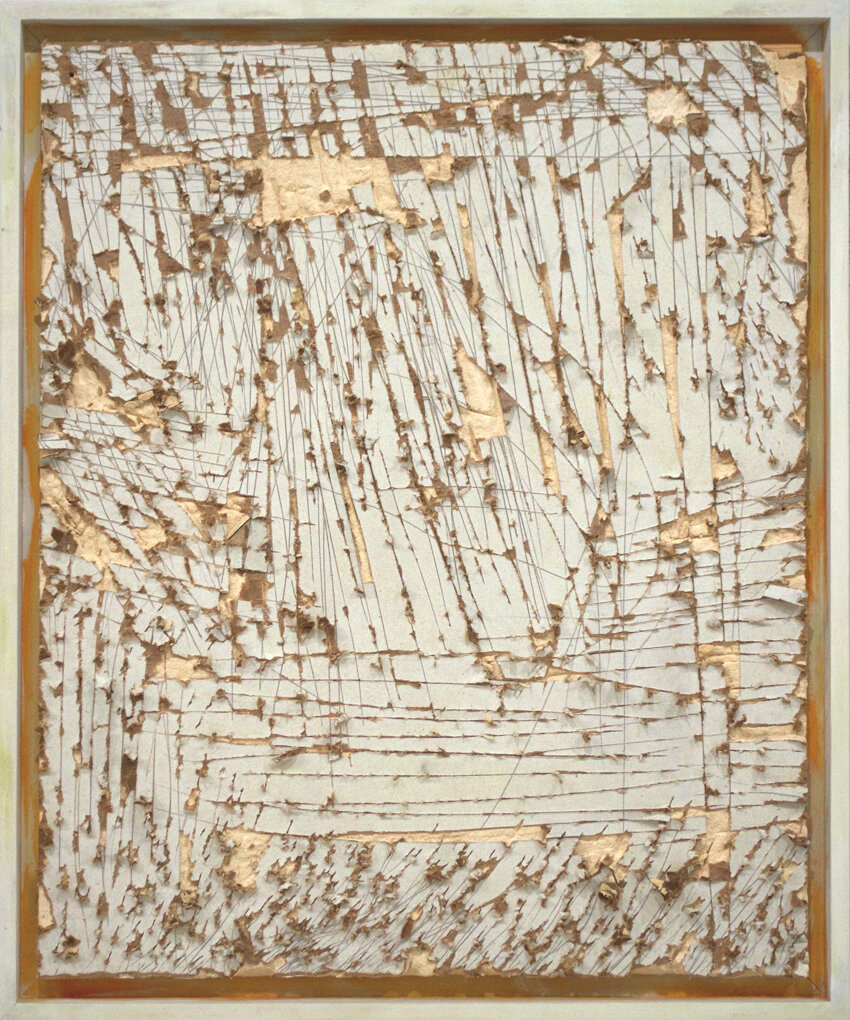 Adam O'Neal, MudMaster 008, 2014, house paint and polyurethane on drywall, 22 x 26 inches