Aaron Skolnick, In the Car, 2013, Oil on canvas, 18 x 20 inches
Aaron Skolnick
Pick Me Up and Turn Me Round
November 14 – December 21, 2013
Institute 193, Lexington
Institute 193 is pleased to present Pick Me Up and Turn Me Round, an exhibition of new paintings and graphite drawings by the artist, Aaron Skolnick. Skolnick uses imagery gleaned from media coverage of the 1963 Kennedy assassination to explore the unreliability of memory and the mutable nature of history. This exhibition coincides with the 50th anniversary of the assassination.

JFK's presidency and his subsequent assassination have become the subjects of a fraught national mythology, the bare facts laden with Cold War symbolism and conspiracy theory. His tenure is often remembered as a glamorous golden age -"Camelot"- defined by hope and youthful vigor. Only relatively recently has JFK's legacy been subjected to a more clear-eyed analysis. The political realities of the Kennedy years do not bear out the flattering legends.

For Skolnick, JFK is a symbol for savvy celebrity image control, a germane example for the present age of inescapable social media and carefully tended online personae. Skolnick's work comments on this manipulation of reality, and explores its effect on both personal recollection and broader, societal memory.

In each of these paintings and drawings, Skolnick subtly alters images culled from the media storm surrounding JFK's assassination. In one delicate graphite drawing of John and Jackie Kennedy, Skolnick has erased the first lady, leaving only a faint palimpsest on the textured paper. In a larger work, he has painted the front page of the Dallas Morning News in gouache, lavishing attention on images and headlines, but obscuring almost all text. Other pieces in the exhibition play with perspective, homing in on particular details while removing or concealing others.

Skolnick's work demonstrates impressive technical skill, but his subject matter is tantalizingly and purposefully dishonest. By amending images from documentary journalism, he underscores the superficiality of memory, and the ease with which the circumstances of the past can be revised in the present. Myths can take on a life of their own, and often have greater staying power than the facts.
Aaron Skolnick, Untitled (Erased Jackie), 2013, Graphite on paper, 16.25 x 19.5 inches
Aaron Skolnick, Road to Paradise, 2013, Oil and watercolor on canvas, 24 x 20 inches
Aaron Skolnick, Untitled (Dallas Morning News), 2013, Gouache on paper, 38 x 30 inches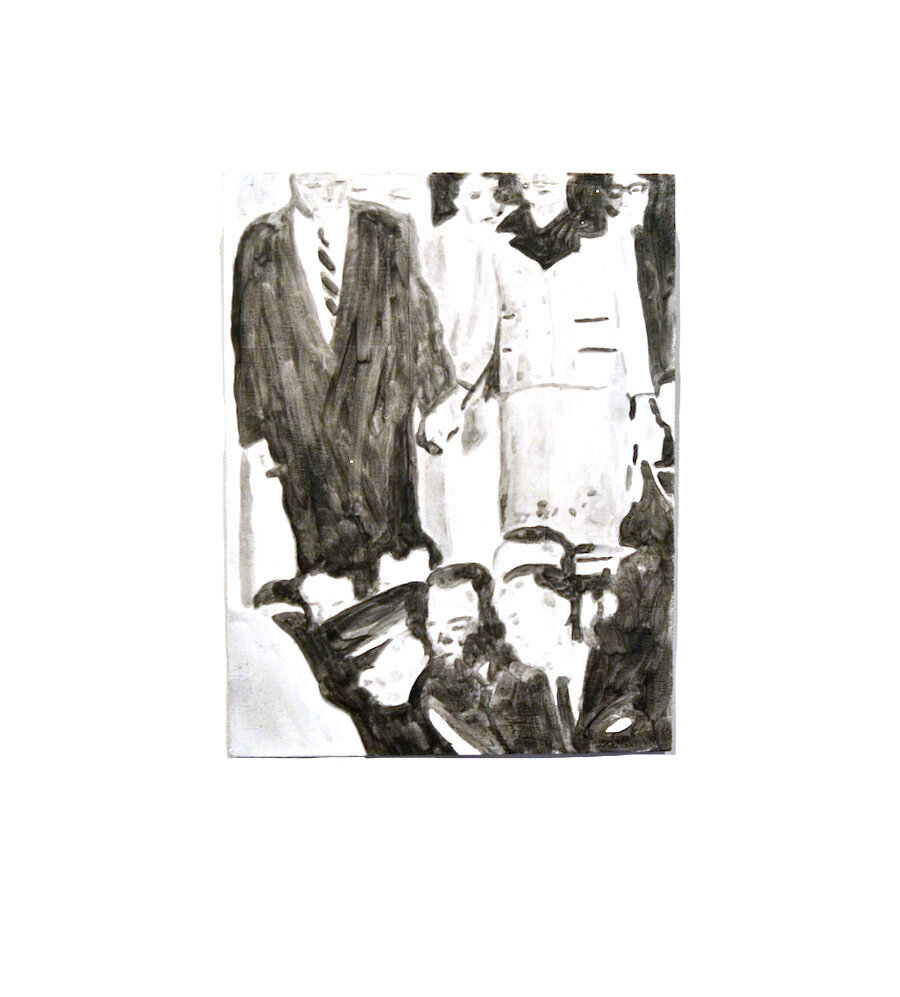 Aaron Skolnick, Jackie Getting Off Plane with Robert, 2013, Oil on gessoed wood, 10.75 x 8.25